Johnny Pott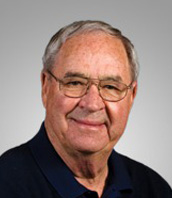 Johnny Pott, a three-time member of the United States Ryder Cup Team, was raised in southern Mississippi. As a PGA Tour player from 1957 to 1972, Pott won five PGA tournaments, including the 1968 Bing Crosby National Pro-Am at Pebble Beach. Pott was an NCAA Medalist and a member of the 1955 NCAA Championship Golf Team at Louisiana State University.
Pott and fellow PGA Tour player, the late Dave Marr, are credited with creating "corporate golf outings" which Pott continues to host today. Pott was instrumental in developing the PGA Tour's standard for television programming and packaging. Pott continues to maintain a close working relationship with the PGA Tour and is Landmark Golf's primary liaison with the PGA Tour.
In 1971, Ernie Vossler and Joe Walser, Jr., hired Johnny Pott, a friend from the PGA Tour, to supervise aspects of design, construction, marketing and management of the Pete Dye design golf courses. In 1974, Pott became Landmark's Project Director of Belle Terre Country Club in La Place, Louisiana. In 1979, Landmark transferred Pott to Carmel, California, as the Project Director for Carmel Valley Ranch.
As PGA West prepared to open in 1985, Pott relocated to La Quinta, California to serve as Marketing Director; more than 500 golf memberships were sold prior to opening day. In 1986, Pott was named Director of Acquisitions/New Projects. In 1991, Pott joined Koll International as Director of Golf Operations, supervising the design and construction of both Palmilla Golf Club, a 27-hole facility in Los Cabos, Mexico and the Ocean Course at Cabo Del Sol, the first Jack Nicklaus designed golf courses in Latin America.
In 1993, Pott joined Landmark Golf to supervise development of the Las Vegas Paiute Resort, and since, as an owner of Landmark Golf, Pott has been involved with design, development, construction and/or golf operations management of The Plantation Golf Club, Landmark Golf Club, Oak Valley, Landmark Golf Club at Oak Quarry, The Golf Club of California, Landmark at Hemet Golf Club, The Ranch Golf Club, Mountain Falls Golf Club, Shadow Hills Golf Club and SilverRock Resort. Johnny Pott and Wade Cable, President William Lyon Homes, are the golf course designers-of-record for The Golf Club of California in Fallbrook, California.
Pott's innate sense of what it takes to create a quality golf experience combined with his talent to craft a memorable golf course with ultimate shot value makes him a key member of Landmark Golf's management team.